Guerrilla marketing is an unconventional marketing strategy that uses creative, innovative and low-cost tactics to generate a great impact. This form of marketing is ideal for small businesses such as restaurants, as it does not require a large financial investment.
In this article we will explore what guerrilla marketing is, why it is an excellent option for restaurants and 15 great ideas to implement it successfully. Let's get started!
What is guerrilla marketing?
Guerrilla marketing is a promotional strategy that seeks to obtain maximum results with a limited budget. It focuses on surprising and creative actions that attract attention and interact directly with the target audience.
Some of its main features are:
Use of creativity and innovation
Low-cost, high-impact actions
Focus on specific market niches
Face-to-face interaction with customers
Generation of buzz and shareable content
Instead of expensive ads, guerrilla marketing relies on ingenuity, originality and surprise factor to connect with consumers in a memorable way.
Where does the name guerrilla marketing come from?
The name guerrilla marketing comes from the analogy with guerrilla warfare, which is a form of irregular combat that uses surprise and low-cost tactics to confront a more powerful enemy. The term was coined by psychologist and marketer Jay Conrad Levinson in his book "Guerrilla Advertising" published in 1984.
Levinson was inspired by the strategies of armed civilians fighting against colonialism and oppression in different parts of the world. By way of analogy, guerrilla marketing seeks to create an impact on consumers through creative, original and unconventional actions that require little investment, but have a high return.
Some examples of guerrilla marketing are:
Ambient marketing: marketing tactics that seek to use the environment and everyday objects to create creative and non-intrusive advertising.
Ambush marketing: is to take advantage of the advertising of another without being a sponsor, creating confusion or association.
Presence marketing: it is about generating presence and recognition of a brand or product in a market or segment.
Astroturfing: is a tactic that seeks to assimilate popular support for an idea, brand or person, hiding the interests or identity of the promoters.
Covert marketing: this seeks to hide behind a news item or event an action with the interests of a brand campaign.
Wild postings: an invasion of posters, stickers and other printed materials in an area to attract
Experimental marketing: these are actions that seek to generate a direct and memorable experience for consumers with the brand, creating an emotional and differentiating link.
Alternative marketing: this seeks to replace traditional marketing with something more creative and innovative, using the media in a different way.
These are some of the ways they are presented. Below you will see some examples and ideas to make it even clearer.
Why guerrilla marketing is ideal for restaurants?
This strategy is perfect for restaurants for several reasons:
Affordable budget: It does not require a large investment, ideal for small
Greater reach: Reach more people by interacting directly with
Buzz and virality: Creative actions generate conversation and shareable
Differentiation: It stands out from the rest and positions the restaurant's
Customer proximity: Allows to interact and generate engagement with
Adaptable: It can be easily adjusted to the objectives and possibilities of each
By harnessing creativity, effective promotion can be achieved even with a small budget, so let's take a look at some great ideas!
15 guerrilla marketing ideas for restaurants
If you still don't get some ideas, here are some interesting and low-cost ideas that you can easily and quickly apply to your restaurant:
1. Create creative menus:
Surprise your guests with original and fun menus. You can use menus with curious shapes, blackboards or even edible placemats.
2. Performs actions on public roads:
Distribute free samples, perform performances or activities that attract the attention of passersby. For example, you can hand out cookies with your restaurant's logo, do a flashmob with your employees or set up a food truck in a strategic location.
Here you can see an example of a flashmob done at the Italian restaurant Circo NYC, where they celebrate the 90th birthday of Manny, an opera lover:
The utility of this is that, knowing people's behavior, they will pull out their phones and make it viral. In fact, this form of public marketing has been used by well-known brands such as Netflix, Coca Cola and Mercedes.
3. Take advantage of surprise promotions:
Offer discounts or surprise gifts to customers, such as free desserts or 2 for 1 on selected dishes. You can use scratch cards, hidden coupons or QR codes to reveal promotions. The idea is to generate surprise with a sense of satisfaction, to please the customer without them expecting it.
An idea: be aware of the publications on social networks and give away for that month or week a free dessert to all those who share a publication of your restaurant's food, or failing that, a review or anything that benefits you.
4.   Create thematic experiences:
Organize themed events and activities according to special dates or seasons of the year. For example, you can decorate your restaurant with Christmas motifs, offer a special menu for Valentine's Day or have a movie night with popcorn and soft drinks.
Template for you to create your own events calendar.
5.   Decorate in an eye-catching way:
Create a unique and cozy atmosphere in your restaurant with an attention-grabbing décor that reflects your personality. You can use bright colors, lights, plants, art or recycled elements to give your restaurant an original touch.
6.   Contests and sweepstakes:
Run contests and sweepstakes on your social networks to generate more followers and interaction. For example, give away a dinner for two for being the 1000th follower, ask your customers to share a photo of your food with a specific hashtag or make a trivia about your restaurant.
7.   Create objects with food:
You can use everyday or food-related objects to create original and fun advertising. For example, a salad restaurant that uses lettuce to make hats or wigs for its employees or a dessert restaurant that uses ice cream to make mustaches or beards for its customers. Use your creativity and make something that makes an impact.
8.   Strategic alliances:
Partner with food influencers or opinion leaders, or other complementary businesses, for joint promotions. For example, you can invite an influencer to try your food and share their experience on their social networks, or collaborate with a wine store or florist to offer a special package to your customers.
→ Learn more about influencer marketing for restaurants.
9.   Viral campaigns:
Create campaigns that invite customers to share your brand and go viral, such as challenges, humorous content, etc. For example, you can launch a challenge to eat the spiciest dish on your menu, make a video parodying a famous scene from a movie involving food or create a meme with your logo or slogan. Take advantage of your community's creativity and get more reach.
10.   Word-of-mouth marketing:
Encourage your satisfied customers to recommend your restaurant by word of mouth and on their social networks. You can offer them discounts or gifts for bringing new customers to , ask them to leave positive reviews on platforms such as TripAdvisor or Google, or create a loyalty program that rewards them for their loyalty.
11.   Reviews and recommendations:
Ask your satisfied customers to leave positive reviews on platforms such as TripAdvisor or Google, where potential customers can consult the opinion of other diners about your restaurant. You can also ask influencers or specialized media to review or recommend your restaurant, which will give you more visibility and credibility.
This brings many benefits since part of the purchasing decisions of other customers is based on reviewing the reviews of others.
12.   Discount coupons:
Offer discount coupons for first visits or on special dates to attract new customers. You can distribute the coupons on the street, on your website or on your social networks, or use platforms such as Yelp, Open Table or Bite Squad to offer exclusive deals.
13.   Special events:
Organize events such as openings, anniversaries, theme parties or tastings to generate expectation and attract more customers. You can invite influencers, media or local personalities to attend and spread the word about the event, or hold raffles or giveaways among attendees.
14.   Alliances with influencers:
Work with influencers or opinion leaders who have an audience similar to your target audience and who can generate content about your restaurant. You can offer your customers an invitation to your restaurant, an exclusive discount for their followers or a commission for each sale they generate.
15.   Eye-catching merchandising:
Create merchandising such as mugs, magnets or stickers with your restaurant's logo and give them as gifts to your customers or sell them at a nominal price. This will help you create a brand image and generate free publicity every time someone uses or shows your merchandising.
Examples of restaurants with truly successful guerrilla marketing
The TexMex food chain "Chili's" handed out free samples in the busiest streets. This action was aimed at publicizing its new menu and generating traffic to its stores. In addition, the samples were accompanied by discount coupons and loyalty cards to encourage future visits.
The restaurant "Burro Cheese Kitchen" in Spain surprised passersby by handing out free giant burritos. This action sought to create a visual and viral impact, as well as generate word of mouth about their food. The burritos were 1.5 meters in size and were handed out in boxes customized with the restaurant's logo.
I imagine something like this (courtesy of bing image):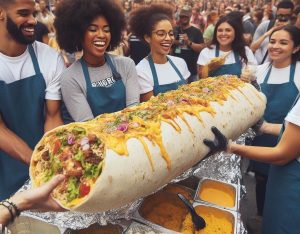 The fast food restaurant McDonald's, created an optical illusion with a crosswalk that simulated giant french fries. This action was part of a campaign to promote its star product, the McFries. The action took place in Zurich, Switzerland, and generated a lot of attention and curiosity among passers-by.
Go guerrilla!
Guerrilla marketing is an excellent strategy for restaurants that want to promote themselves on a tight budget. Through creative, surprising and eye-catching actions, you can generate an important impact and connection with potential customers.
By implementing some of these innovative ideas, restaurants can increase their awareness, increase their clientele and position their brand in a disruptive and effective way. It's time to bring out your creative and guerrilla side!